Watch: Suspect in shooting that killed Houston store clerk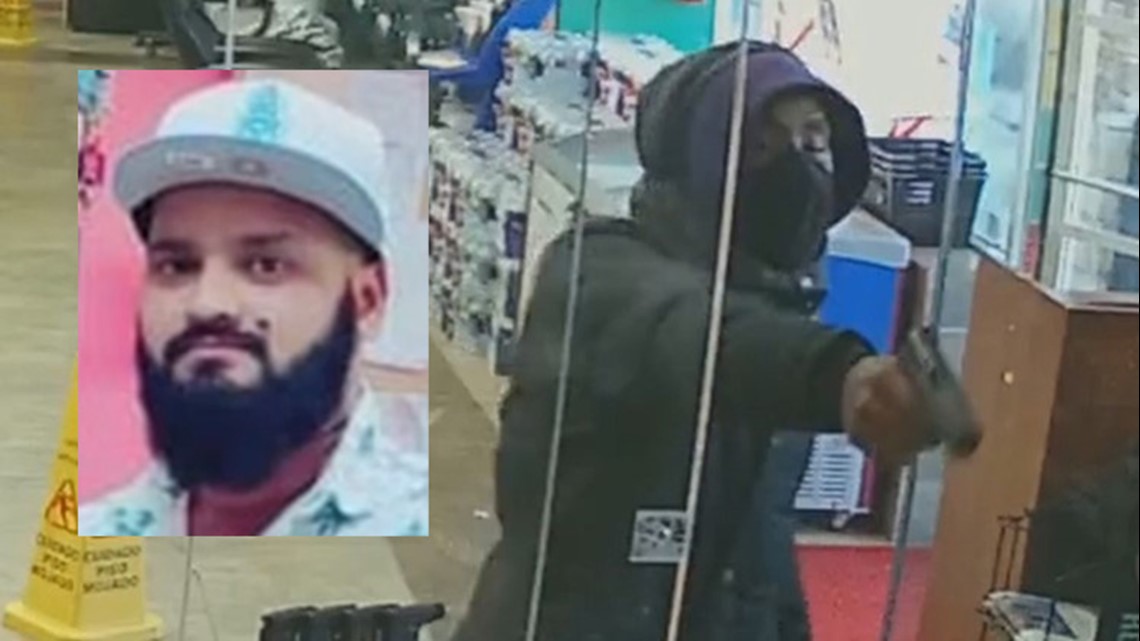 HPD says the masked male suspect is seen on surveillance video entering the store and then pulling a gun on the clerk.
HOUSTON — Police are looking for a suspect wanted in connection with the shooting death of a store clerk this weekend in northeast Houston.
Police said they believe it may have been an attempted robbery, but no money was taken from the register.
It happened just after 8 a.m. Sunday at the V-Stop Food Mart located in the 6500 block of Homestead.
Houston police said officers responded to a gunshot at the time and found 25-year-old store clerk Jhon Dias in the back office, apparently suffering from a gunshot wound.
Quanell X took on the case in hopes of finding justice for Dias.
Paramedics attempted to rescue, but Dias was pronounced dead at the scene, police said.
Houston police say the masked male suspect is seen on surveillance video entering the store and then pulling a gun on Dias.
"Everyone says he was a good man who didn't deserve to be shot in cold blood," Quanell X said at a press conference outside the store on Wednesday.
After the shooting, the suspect was seen running through a nearby neighborhood. Quanell X said they believed the man was still in the area.
"Based on everything we've been told in the community, we believe he lives in the community," Quanell X said.
Quanell X went on to explain that Dias had no family in the United States and worked to send them money overseas.
Quanell sent this message to Dias' killer: "We are going to find you and you are going to be exposed. Brother, surrender."
The shooter is described as a black male, between the ages of 20 and 25, wearing a black jacket, black pants with white stripes and black shoes. He is about 5 feet 7 inches tall and weighs about 140 pounds.
Sam Smith is a regular customer of the store.
"John was a great person, a great person," Smith said.
Smith said Dias had worked at the gas station for just over two years.
"A lot of times, especially when I come in so early in the morning, he greets me (and) asks me 'how are you? Have a nice day. Are you okay?'" Smith said.
Anyone with information in this case is asked to contact the HPD Homicide Division at 713-308-3600 or Crime Stoppers at 713-222-TIPS.
KHOU 11 on social networks: Facebook | Twitter | Instagram | Youtube