Multi-channel retailers focus on in-store services as they finalize reopening plans next week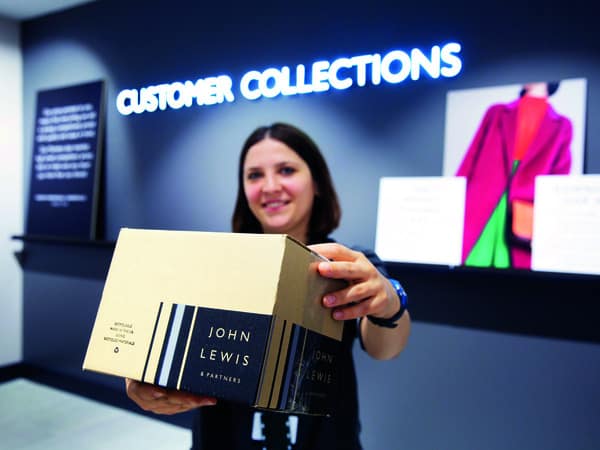 Multi-channel retailers are emphasizing in-store services as they finalize plans to reopen their stores in England and Wales next Monday. John Lewis will reopen changing rooms and measure children's feet, while Ikea shoppers will be able to use in-store scheduling services, but behind a screen.
At the same time, the two will continue to make shopping in online and in-store channels more convenient, as click and collect continues to expand.
The plans come after Prime Minister Boris Johnson said yesterday that the roadmap plan for reopening shops on April 12 could go ahead, as 31million people have now been vaccinated against Covid-19, mostly during the third lockdown, which began on January 6, and infections are relatively low.
But the reopenings come after a year in which thousands of stores closed. The Retail Research Center said as of last week, 188,685 jobs in the UK had been lost since stores were forced to close a year ago. Top Shop and Dorothy Perkins will be among the retailers that will not open next week as parent company Arcadia Group went into operation before Christmas and during the lockdown its brands were bought up by online-only retailers including Boohoo and Asos.
How Top500 retailers are planning their reopenings
RXUK Top500 Leading retailer John Lewis announces it will reopen its changing rooms and restart the fitting of children's shoes, while offering in-person appointments for services such as nursery planning and personal styling during the reopening of its stores in England and Wales next Monday. Its Edinburgh store will reopen after renovation on May 14 and its Glasgow store is due to open on April 26. Protective screens and social distancing will continue to be in place, while customer service hosts will manage in-store numbers both at entrances and in busy areas. areas of its stores.
Returns will be made to drop boxes where stock is quarantined for 48 hours, while its rewards customers can also return beauty product packaging for recycling for the first time in months.
Multi-channel services continue to expand, with the reopening of John Lewis stores bringing the department store's collection points to over 900, including branches of Waitrose, Co-op and Booths.
The retailer is also due to stock furniture from online vintage and antiques retailer Vinterior at its Kingston store from April 12.
Pippa Wicks, Partner and Managing Director of john lewis, said, "We are delighted to welcome our long-lost customers back to our stores. We look forward to reuniting customers with the joy of physical shopping, as well as the excitement of our stores while introducing our customers to stylish new products at prices they don't expect. We are also delighted to open up essential services and help customers choose the most difficult items to buy online – from the perfect mattress, to test drives of the right stroller or finding the right pair of jeans. . We want to make sure the shopping experience is as fun and inspiring as it's ever been, while making sure our customers and partners feel safe.
Eight John Lewis stores will not reopen from the third lockdown, taking the department store chain to a total of 34. That's down from the 42 that have reopened since the first lockdown, itself down from 50 at the start of the pandemic.
Ikea, ranked Top150 in RXUK Top500 research, says its stores in England and Wales will all reopen on April 12, following the reopening of its Scottish stores yesterday. The retailer will continue to limit the total number of people who can be in stores, while face coverings will continue to be mandatory and social distancing guards will ensure guidelines are followed. Payments will continue to be made by card, with a preference for contactless, while screens will be put in place to protect workers at checkouts, customer return points and in-store scheduling departments. Its restaurants will be closed until May 17, although its bistros will be able to operate a contactless take-out service.
Multi-channel services, including click and collect, launched during the first lockdown, will remain in place while a 'click and deliver' service which routes items to DPD drop-off points is being rolled out. Stores will continue to operate as fulfillment and distribution centers for local orders, and remote online appointments will continue to be available to plan kitchens, cabinetry and salon storage. Additionally, a remote home decorating service is also offered, while delivery costs will now start at £2, depending on product size and speed of delivery.
Pierre Jelkeby, Ikea UK and Ireland Chief Executive Officer and Chief Sustainability Officer, said, "The changes made over the past year will be critical to the future success of our business as we pursue our ambition to create better everyday lives for many people."
He adds: "We have always believed that home is the most important place in the world. Over the past year, we have placed more demands on our homes than ever before, needing them to be spaces where we can live, work and play; meet our physical and emotional needs.
"Knowing that some of these changes in our lifestyles, such as working from home, will become increasingly permanent over the next few years, our homes will need to become even more versatile and adaptable. As such, we are truly looking forward to welcoming customers safely back to our stores, inspiring people to live a better and more sustainable everyday.
Set the context
The reopening of shops is likely to lead to higher visitor numbers compared to the same period last year – as a year ago the first lockdown was well underway. Springboard figures show that over the Easter weekend UK attendance was stronger than a year ago (+157.7%) – but still weaker than in 2019 (- 54.9%), or, in fact, only a week earlier (-7.6%). It was highest in central London (+200.5%) and regional cities (+209.3%) compared to the previous year, but still far behind 2019 in these two areas (-79, 2% for central London and -72.1% for regional cities). cities).
Footfall in retail parks (+197% in 2020, -19.1% in 2019) was higher than in shopping streets (+145.2% 2020; -65.8% 2019) and shopping centers ( +146% 2020)
"With exceptional weather across most of the UK, it was no surprise that last week footfall was up across all retail destinations compared to the previous week and with the warmer weather in the south, it was no surprise that this part of the UK benefited the most," says Diane Wehrle, Director of Studies at Springboard. "Traffic increased in all three destination types, but outdoor environments inevitably benefited more than malls where footfall growth was a third less than that of high streets and retail parks. After the anniversary of the start of lockdown the previous week, attendance was 1.5 times higher than the same week in 2020, but still two-thirds lower than in 2019."
David Jinks, Head of Consumer Research at ParcelHerowarns that a return to in-store shopping is likely to be short-lived – before customers start buying online again.
He says: "Next Monday we will no doubt see big queues outside fashion stores and a rush to the gym. It's been nearly four months since we've been able to visit many of our High Street favourites. But what kind of city centers and malls will we be returning to? With the likes of Debenhams, Topshop and Dorothy Perkins remaining gloomy, and even some of the John Lewis stores gone forever, this won't be the experience it was.
"Even before the latest wave of store closures, things looked far from stellar. The first lockdown ended in June 2020, and after an initial burst of enthusiasm and early morning queues to get into our favorite stores, things fell apart after a few days. Looking at retail sales figures from the Government Office for National Statistics (ONS) for June 2020, as the first lockdown was lifted, the value of sales actually fell -3.2% from the previous 'last year. Clearly the massive, pent up demand anticipated by many High Street stores just wasn't there.
"Downtown stores that had banked on consumers abandoning their newly acquired online habits were bound to be disappointed in June. Online sales fell slightly, accounting for 31.8% of all retail sales, compared to 33.3% the previous month when non-essential stores were still closed. It was a slight drop, but hardly a return to 'normal', given that online only managed to take 20% of all sales before the first lockdown. This time, the end of confinement could be even less spectacular.
He adds, "Only retailers who view their website as their most important storefront and ensure that their online service matches the standards of their in-store experience will survive."